Finding the right lender and real estate agent for you
Meet two experts who can make your home-buying experience a lot easier: your lender and your agent.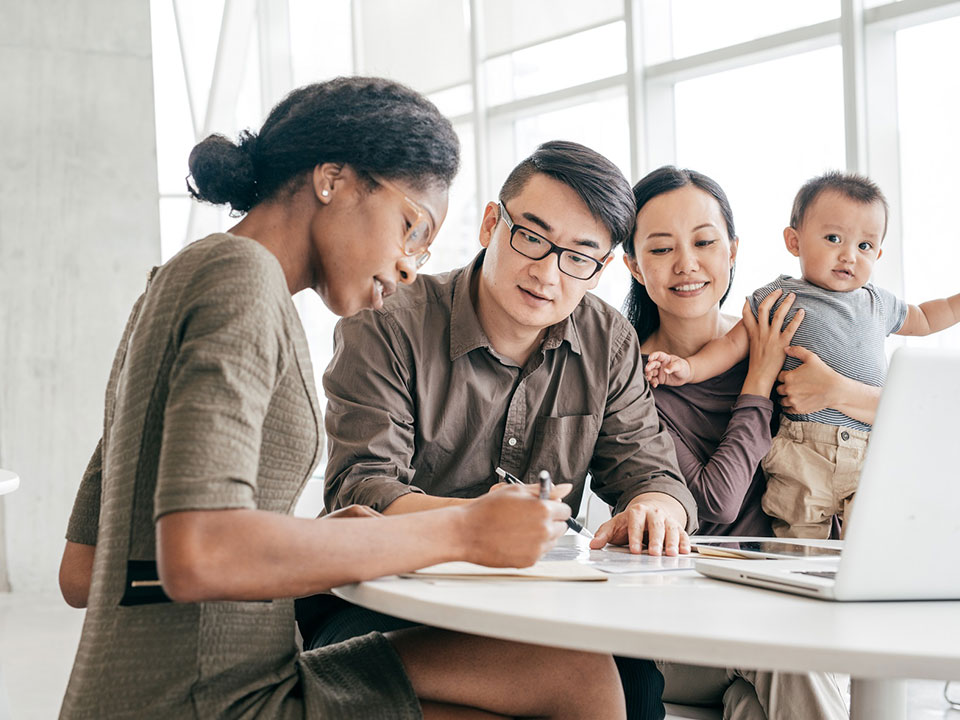 Among the helpful professionals you'll work with when you're buying a home, two can be your biggest allies: your real estate agent and your lender. If you don't know how to get started, what you can afford, or whether you're looking in a buyer's market or seller's market, your agent and lender are the people to ask.
You'll want to start searching for these professionals when you're first thinking about buying a home, and definitely before you start looking at properties.
Start by finding an agent
Real estate agents are local housing market experts. Some specialize in helping buyers, while others work with sellers. You're looking for an agent with experience in the local market who works with buyers in your situation.
What agents do
Your agent will work with you to find the right home, which can take from a few weeks to several months, or even longer. 
They'll ask what you're looking for in terms of home type, size, amenities and location. They'll let you know about listings they think will fit your requirements. When you find something you like, they'll call the listing agent to determine availability and possibly preview the home. They'll make arrangements to show you the homes they think best fit your needs, and drive you from one home to the next, often visiting up to 10 homes a day to accommodate your schedule. 
In short, you're going to be in contact with this person a lot — emailing, on the phone, and probably in a car. So you'll want to find someone you like, relate to, and trust will be on your side.
Shopping for an agent
First-time buyers should look for a licensed real estate agent with experience working in your desired location and with new buyers. They should be willing to patiently explain the home-buying process. 
You'll want to meet and talk with several agents before you decide which one to use. Because many have packed schedules, it's best to contact agents online or by telephone to set up an office visit. You should let each know you're talking to several area agents, and let them know your home-buying expectations: when you hope to buy, how long you plan to live in the home, and neighborhoods you like (or think you'll like). 
Try to get a feel for how easy the agent will be to work with and how responsive they will be to your needs. Ask how many home buyers they're working with currently, and why they think they'd be a great agent for you.
When you find an agent you're comfortable with, they'll probably ask you to sign a buyer's broker agreement, sometimes referred to as a buyer representation agreement, indicating that they'll represent you during the transaction. These agreements vary state to state, so be sure to read yours carefully and ask questions if you don't understand something.
Shopping for a lender
It's a good idea to talk with prospective lenders so you'll get a feel for what they would be like to work with, how well they communicate with you, and which you think would be best for your transaction.
What lenders do
Lenders will ask about your income, assets and debt to get an idea of the loan type and amount you may qualify for. They'll explain the different types of loan products and help you understand your options, including how much you'll want to put down. 
They may suggest you take steps to improve your credit score before you apply for a mortgage, since a higher credit score can help you qualify for a lower interest rate. You can also request that they pre-approve you for a loan up to a certain amount, which can make you a more desirable buyer in the eyes of sellers. 
Once you've applied for a loan, you'll receive a Loan Estimate that shows your loan type, interest rate, and fees the lender will charge. Be sure to review the Loan Estimate carefully and ask questions about any charges or fees you don't understand. 
For example, you may save money by paying a one-time upfront fee (sometimes referred to as a discount point, which is equal to one percent of your loan). Buying points buys down the interest rate. You can work with your lender to calculate the pay-back period it would take to earn back the amount paid for points and start saving money on interest each month.
What great partners will do for you
A great home purchase team works with you, and each other, every step of the way to help you find the right property, make a successful offer, and get the loan closed on time. 
With the right pros on your team, you can have confidence that your best interests are being represented by people who know what they're doing and have done it all before — even if this is your first buying experience.